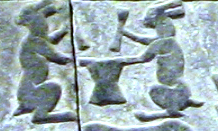 Jade Rabbit pounding the Elixir of Life for the Moon Goddess Chang Er.
To celebrate the new year we will have a meal out on Friday 3rd February.  Details on WhatsApp Group.
2023 has started well with very good attendance on Thursdays at the King Alfred. However, disappointingly, only one new player so far this year, despite 3 indications of interest in a new beginners class. Never mind, we have a good little group learning the Short Form some of whom are close to the end of 'Square Style'. I'm looking forward to rounding off their form in the coming months.
The monthly workshops for experienced practitioners re-started on Saturday 7th January and all, I think, found it really useful. I certainly did, in particular discovering I had changed an angle in the sword form! I am now struggling to correct this but it has inspired me to train harder. Next workshop is in Horsham on 4th February hosted by Peter Ballam – put it in your diary now! Lift available from Hove as usual.