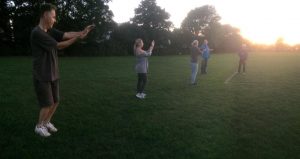 What a lovely a lovely evening for our final session of Tai Chi in the Park.
Numbers varied somewhat but that's holidays for you! There were two evenings with only one student and one with eleven but I have thoroughly enjoyed them all. Amanda gets the attendance award with 9 sessions closely followed by Martin but neither are in the photo above.
Several players have said they will join us at the King Alfred for the winter so looking forward to seeing you all there.