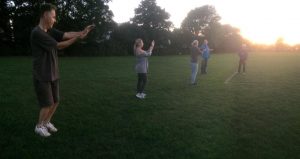 What a lovely a lovely evening for our final session of Tai Chi in the Park.
Numbers varied somewhat but that's holidays for you! There were two evenings with only one student and one with eleven but I have thoroughly enjoyed them all. Amanda gets the attendance award with 9 sessions closely followed by Martin but neither are in the photo above.
Several players have said they will join us at the King Alfred for the winter so looking forward to seeing you all there.
Just had first booking for the Beginners Tai Chi Course and it was first proper message to my new email at this new site.  Woohoo! This is often the most popular course of the year as people make New Year Resolutions and look for ways to get fit and work off those extra pounds put on over Christmas.
Many people don't think of Tai Chi as aerobic enough to burn off the calories but the Tui-shou or pushing hands exercises and weapons forms certainly can. It depends how fast you do them! Continue reading "Introduction to Tai Chi Course starting 11th February 2018"